5 Reasons Why Marketing Must Fundamentally Change
80% of senior marketers believe marketing departments need to be fundamentally restructured.
New research from Marketo has revealed how senior marketers believe that the marketing function of businesses needs to fundamentally change in the next few years. The reform is necessary to support the integrated, omnichannel activity marketers require to understand and provide for the complex ways consumers navigate digital media. In addition, change is needed to facilitate the growth of marketing departments as a revenue generating channel, one that is taking both the lead and overall ownership of managing consumer journeys.
Senior marketers believe marketing departments need to undergo fundamental change, according to research from The Economist's Intelligence Unit, on behalf of Marketo. The Rise of The Marketer, Driving Engagement, Experience and Revenue, surveyed 478 CMOs and senior marketing professionals, gauging their thoughts and opinions on the challenges facing brands and marketers.
How can marketers prepare for the challenges ahead and meet the demands for better customer experiences?
Why Is Change Needed?
Marketing is evolving from a department that costs money to one that is a proven source of revenue. But before we get there, marketing departments need to adapt their fundamental business models, structures, and modes of operations to match growing customer expectations and demands, according to the report.
Let's look at five key trends changing the way marketing departments work.
1. Managing The Customer Experience
More than one-third of respondents to Marketo's survey agreed that they were responsible for managing the customer experience today. This figure is expected to increase to around 75 percent in the next three to five years, as marketing departments take ownership of the overall customer experience.
With the diverse range of channels that make up the consumer experience, marketers will manage the integration and synergy between those channels. As Jamie Moldafsky, CMO at Wells Fargo, explained:
"There is more of a need for the articulation of an integrated, holistic approach than before, simply because there are myriad channels and contact points."
The wide scope of the consumer journey means that a diverse range of interconnected skills and teams capable of delivering on many fronts are necessary – increasingly this responsibility is being taken on by marketing departments.
2. Driving Engagement
Empowering great customer experience is seen by marketers to be a key driver for engagement, which is itself increasingly being regarded by marketers as a crucial touchpoint to building loyalty and advocacy in consumer purchase journeys.
Engagement is viewed as a strong driver for sales and repeat sales:
63 percent of marketers surveyed say that engagement is manifested in "customer renewals, retention and repeat purchases."
Overall 78 percent of marketers see engagement as occurring in the middle stages of the funnel, with 15 percent of those defining engagement as that which has an impact on revenue.
The goal is to increase the depth and richness of engagement and interactions, helping nurture consumers as the navigate the purchase journey, and ultimately to drive revenues.
3. Increasing Revenues
The report highlights that all too often, marketing is seen as a cost center, rather than an arm of the business that drives revenues. Overall, respondents said that in three to five years, approximately four out of five companies will consider marketing to be less of a cost center and more of a revenue driver.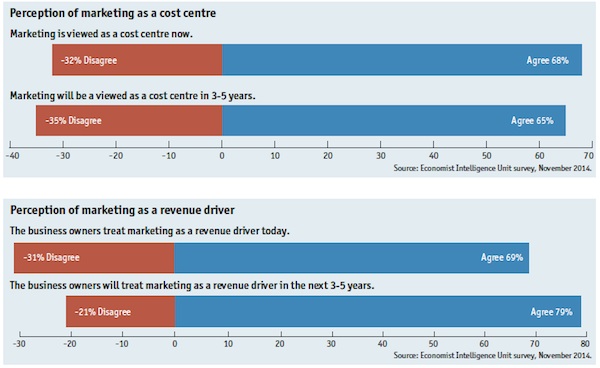 At the moment marketers agree that their departments are being viewed as both cost centers and revenue drivers, with 69 percent and 68 percent, respectively, agreeing they were viewed in that way by their companies. This sentiment, however, is expected to move toward the latter opinion in coming years.
Today marketers are increasingly able to show how they are driving revenue by measuring the impact of their influence. Perhaps the best example of this is lead generation, and the ability to track opportunities as they move from unqualified, to marketing-qualified, to sales-qualified, to a close.
Marketing departments are increasingly taking ownership of entire customer journeys. The capability to measure that impact is becoming much more attributable. As Mayur Gupta, Global Head, Marketing Technology & Innovation at Kimberly-Clark summarized:
"The CMO has to drive an experience that can win that consumer at any point of the funnel, because there really is no funnel anymore. The consumer is at the center. Marketing has to be able to inspire the consumer's behavior everywhere in the consumer's world."
The omni-channel nature of the overall consumer experience is ultimately owned by the marketer…
Click To Tweet
For that reason, marketing departments are beginning to gain recognition for the value that they bring to a businesses' revenue channels. The change will mean that new skills are necessary in the industry to measure and track the efficacy of marketing campaigns.
4. Addressing The Skills Shortage
Especially among those marketers who considered change to be urgent, 39 percent want new to recruit employees with new skills able to cater to consumer demand for digital engagement, and in the field of marketing operations and technology.

32 percent of marketers want to recruit those skilled in the areas of demand generation and data analysis.
27 percent are seeking recruits skilled in customer experience and engagement.
In the creative skills of graphic design and arts, and advertising and branding, 16 percent and 26 percent of marketers, respectively, report a skills shortage in these area.
The skills shortage is a huge challenge in the digital industry. Marketing departments are already feeling the need to recruit technically- and analytically-minded professionals to meet an increasingly data-driven world.
5. Investing Big In Digital And Data
When it comes to investment and budgets, digital and data operations will dominate budgets in the next three to five years.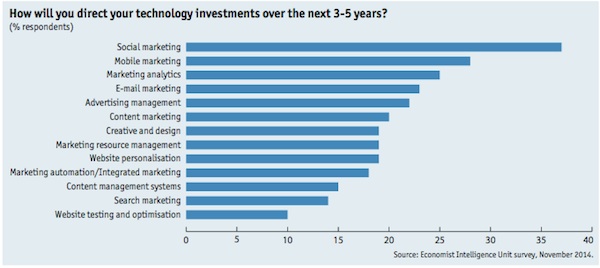 The three greatest channels that marketers intend to spend their budgets on will be social, mobile, and email marketing, with analytics being used to tie together and integrate brand efforts on these channels.
The sheer impact of the way digital channels have taken precedence in consumer lives means that marketing budgets and departments need to be restructured in a way that is supports strong digital performance.
Verdict: Marketing Departments Need To Fundamentally Change
When asked whether to score, on a scale of 1 (strongly disagree) to 10 (strongly agree), the statement that "marketers need to change their approach over the next three to five years to better support the business" an overwhelming proportion of senior marketers indicated that they were strongly in favor of a significant change in approach.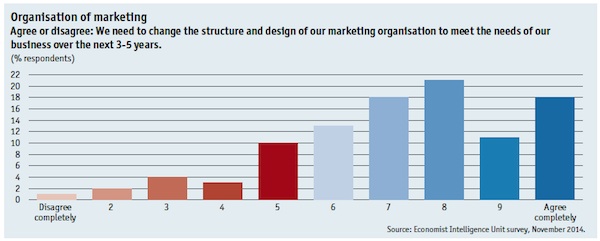 In addition:
81 percent agreed with the statement "we need to change the structure and design of our marketing organization to meet the needs of our business over the next three to five years."
19 percent of respondents consider that there is no need to change the way marketing departments are functioning, or that the "way we are operating now is the same as the way marketing departments will operate in the future."
52 percent of respondents believe in gradual, or incremental change, making small optimizations and measuring the efficacy of new changes.
29 percent of respondents believe that marketing departments must change their approach to better support their businesses.
This final group of marketers believe in urgent change and highlight a need for marketers to keep up with technology and data-driven competitors. This group is particularly keen on establishing a new precedent in which marketing departments are proven to drive revenue, rather than being seen as a business expense.
Change Means Opportunity
Overall, the results of the survey show that marketers are striving to catch up with the high expectations of digital-savvy consumers. More than anything, marketing departments have the opportunity to change and improve their efforts. As the gap between what is expected and what marketers are capable of delivering decrease, consumers – and the reputation of marketing as a business function – will benefit.
Do you agree marketing needs to fundamentally change? Why?